Omaha, NE Machine Shop
Joe's Machine
Joe's Machine offers high quality machine shop services to the Omaha, NE area. With over 30 years of experience behind us, we service all makes and models of ATV's, Motorcycles, Jet skis, and Snowmobiles.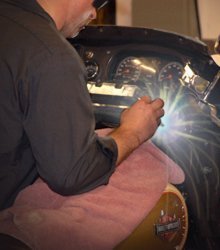 Joe's Machine Specializes In :
Complete motorcycle, jet ski, snowmobile, and ATV engine repair
Complete welding services
Valve jobs
Cylinder boring
Cylinder resleeving
Crankshaft rebuilds
Performance work
We have parts available for all makes and models of motorcycles, ATV's, snowmobiles, and jet skis.
Call Joe's Machine today at 402-895-0183.
9430 Military Rd
Omaha, NE 68134
Hours of Business:
Monday-Friday: 8:00 am - 6:00 pm
Saturday: 8:00 am - 1:00 pm